When Music and Reality GL.TCH
Illustrated by Sara Moffatt
I encountered a very minor glitch while listening to the electronic duo Boards of Canada after classes one day. Boards of Canada, to add some small context, when making their music frequently use recordings of nature and miscellaneous sounds (for example the splashing of water and a vocal sample from a 1970's episode of Sesame Street in the song Aquarius).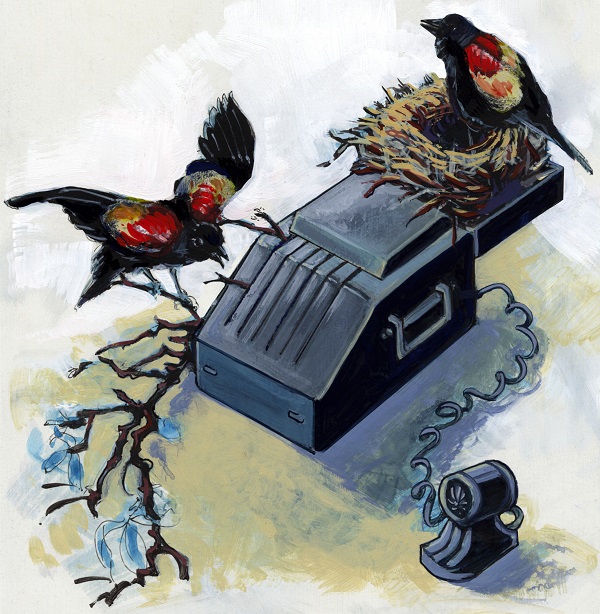 Additionally, in an interview for EHX (a now defunct website covering music in Scotland) the band stated that they "used to chop up shortwave radio recordings on an ancient portable recorder, and make tunes out of them by punching-in and layering tracks in a crude way" (bocpages). All this to say that their music production is incredible reliant on taking existing technologies and sounds and manipulating them until they resemble something else or something unrecognizable that still manages to sound in a class of its own.
The actual glitch in question (which is rather trivial) was that I happened to be listening to their song "Rue the Whirl" for the first time on my headphones.
While I strolled along, I heard birds chirping faintly, mixed in-between the looped drums and ambient synthetic noise of the track. What amused me was the fact that the two opposing sounds melded together: the sounds of nature and the surreal sounds of the music.
However, after pausing the music, I realized that the birds chirping were in fact a part of the music, a field recording the musicians had placed within the song.
This introduction to Boards of Canada drastically changed the way I viewed music.
While I never had any technical knowledge concerning music production, I loved BoC's playful use of samples and sound manipulation. This inspired me to seek out similar artists such as This Heat or Brian Eno and David Byrne's collaborative album: My Life in the Bush of Ghosts.
These were all musicians who approached music-making with experimental inclinations, creating works that challenged the listener and attempted to see how technology (in their respective periods) could be interacted with inventively. Artists who tried to use "glitches" to make something no-one had ever heard before.
Here are the referenced artists/links if interested:
Boards of Canada, Aquarius: https://www.youtube.com/watch?v=St-mEIhvKOI
The sample used in Aquarius from Sesame Street: https://www.youtube.com/watch?v=5dgxNR4jZrU
Boards of Canada, Rue The Whirl: https://www.youtube.com/watch?v=bVEYYRmd_GI
The interview in question with BoC: http://bocpages.org/wiki/The_Age_of_Aquarius
This Heat's first album: https://www.youtube.com/watch?v=Zclze9rRGoM
My Life in the Bush of Ghosts: https://www.youtube.com/watch?v=FWQdKkk4Xr0