MUCH ADO ABOUT NOTHING
Professional theatre students dedicate their entire young lives to honing their acting skills. Attending their productions is a way to encourage and support their hard work. It is even better when the play they put on is extravagantly funny and refreshing. As a theatre student in my second year, I get to watch how things unfold in the year ahead of me. You can too! If comedy is in your sphere of interest, take a little break from Netflix and come on out to the Dawson Theatre (before November 26th) for the first major production of the season, Much Ado About Nothing, put on by the third-year students of the Professional Theatre Program. It's a Shakespearean comedy directed by Winston Sutton.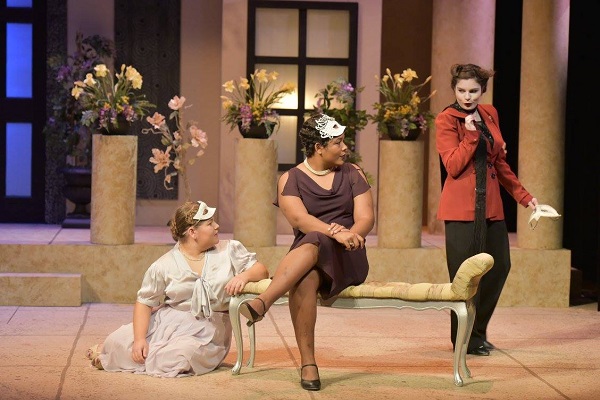 This rendition of Much Ado is particularly non-traditional as director Sutton gives his own interpretation of the play, modernizing it by setting it in the state of New York in the 1930s, because who doesn't enjoy the fashion of this period?
The production has a double cast— meaning that different actors play the same roles on different nights. How curious, then, to see how both casts deliver a unique and entertaining interpretation of the characters. As an audience member, I experienced both joy and anger watching these characters fall in love or play behind each other's backs. To me, this story is about the strength of love; how love can survive through arrogance or betrayal.
Not only is there comedy in the text, but it is physicalized by the actors. They deliver different interpretations, using physical humour, provoking laughter from the audience. There is no doubt, it will make you laugh!
In this rendition, Leonato is actually Leonata, the governess of Messina (originally in Italy, but here in NY). His brother Antonio is actually her sister Antonia. The governess lives with her sister, her daughter Hero and her niece Beatrice. To remind the audience that Leonata is an important lady in the town of Messina, the set replicating her mansion is an imposing, unmovable structure with two windows in the middle and four windows on the sides, one each for Leonata and Antonia, Hero and Beatrice, Don Pedro, Benedick and Claudio, and Don John, Borachio and Conrade. A scene involving one of these characters takes place on the porch of the set, under the window of the character in question, with a particularly enchanting light play.
I was fascinated to learn that there were glitches along the way, including illness and injury that resulted in only ten days of rehearsals with a full cast; yet, I noticed this group has a powerful bond, and were able to overcome these challenges by sticking together and not letting such hurdles get in the way of their work. The actors succeeded in delivering a performance that is believable, unique and very funny. Nice inspiration for an aspiring actress, such as myself!
I found this rendition of Much Ado About Nothing to be absolutely worth seeing and I encourage you to go, and maybe bring a date? Yes, this play is definitely a date night show. And if date nights don't speak to you, well, consider the play anyway. I happily bathed in nostalgia from the 1930s, with marvelous costumes, instrumental music, an impressive set and an overall mood that is bound to elicit glee. I did not regret it!