Glitches in the Human Condition
Are you like me and go on Facebook and Twitter and scroll through people's dramas as they manufacture public entertainment for the masses out of their personal lives? Do you love to witness other peoples' chaos? To observe when somebody else's life tumbles into madness? I do! Which is why I am particularly entranced by the latest Dome Theatre production: August: Osage County. The Dawson Professional Theatre actors are currently delivering a stunning new performance in this contemporary family drama by Tracy Letts. I wonder why it is so enjoyable to watch when somebody else's life is miserable? Perhaps because, when you sit in the audience, you don't need to think about your own problems? Because you don't feel so alone?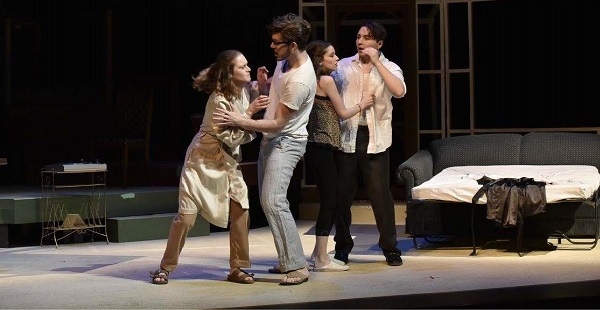 August: Osage County follows the troubles of an Oklahoman family as they struggle with loss, lust and substance abuse. It is fair to note that the subject matter is mature and hits close to home for all of us. I have to say that the performance delivered by the actors, directed by W. Steven Lecky, is one of the strongest I have seen during my time at Dawson. The chemistry between the actors, and the hard work put in by the crew, have really allowed the play to take its beautiful, raw shape. The set has been craftily constructed to suggest the appearance of a whole house, raw and exposed. It feels imposing, as if the walls themselves are characters, and yet without obstructing any of the scenes.
This year's S.P.A.C.E. theme of "Glitch" reminds me of the plot of the play: the family members within this tumble-down house are facing a time of extreme hardship. They struggle to hold themselves together, as internal conflict, self-destructive behaviour and old wounds haunt each and every one of them. The play tackles hard-hitting subjects such as drug addictions, affairs, forbidden love, suicide and so much more. These topics intrigue me: I guess that's why I'm studying theatre. But maybe that's just the human condition. I encourage you to come down to Dawson's Theatre and see for yourselves just what kind of "glitches" can occur in a Pulitzer prize-winning play. Support your local college theatre and its wonderful cast and, if you like it, come a second time and see a whole new cast deliver a beautiful, emotional and unique performance.
August: Osage County plays at 8p.m., January 25th to 28th, and February 2nd to 4th, at Dawson's Theatre.